We found this article from Sarah Johnson on The Guardian simply beautiful. Read on as it describes how paintings and decorations on a psychiatric ward in London have been found to have had a positive effect on those in their ward. We certainly can learn from this.
When most people think of a secure mental health unit, they don't tend to picture it decorated with artwork by award-winning artists and patients.
A psychiatric ward housing patients with schizophrenia in Springfield University hospital in Tooting, London, however, has undergone an artistic renovation. The once blank, colourless walls now house a variety of pieces from artists such as the Turner Prize-winning Assemble and photographer Nick Knight as well as by the patients themselves.
Will, a resident on the Phoenix ward, who is in his 20s and a keen artist himself, says of his new environment: "I like everything about it. It makes me feel good. It's calmed the place down and the colours are more cool. It was a privilege to work with such talented people."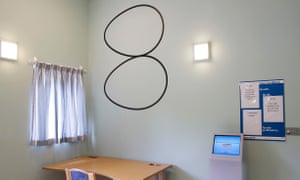 This is the first project of its kind by charity Hospital Rooms, which saw professional artists donate or work on pieces for the ward as well as host workshops for the patients to produce their own art.
The idea for the project, funded by the charity Morris Markowe League of Friends of Springfield University hospital and the Arts Council England, came from Tim A Shaw, an artist, and Niamh White, a curator, who wanted to do something after visiting a close friend on a psychiatric ward in another hospital. Shaw said of the ward: "We thought it wasn't necessarily the right kind of environment to feel better. It was cold and clinical, and from our point of view, the colours and artwork weren't stimulating."
The pair got thinking about what they could do. White says: "We wanted to bring quality artists to co-produce with service users, psychiatrists and occupational therapists so we could create things that work, so we could elevate these environments and think about value."
White and Shaw, and the artists they worked with, liaised with the hospital to make sure that everything was suitable for the environment. Everything has to be wipe-clean and robust, there can be no glass that could be broken, and no freestanding sculptures that could be thrown.
Work on redecorating the ward was done from April to July 2016, while 10 two-hour workshops with the residents and staff ran until December. Shaw and other artists introduced various techniques such as photography, printing and painting. The occupational therapists on the ward now do these and other techniques in the sessions that they run with patients. Partners also donated materials such as acrylic paints which aren't usually available with dwindling NHS budgets.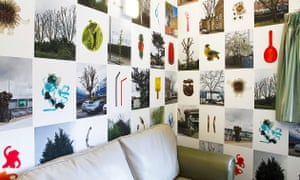 As for the art itself, it's generated quite a buzz on the ward – not all of it positive. One man scoffs when asked about what he thinks of a picture of flowers: "I can't stand it." No one seems bothered that the art elicits such negative reactions, though. Instead, it's viewed as a development. Dr Charlotte Harrison, a consultant psychiatrist on the ward, says: "Part of the idea of the project was not just that everything look pretty but that the artwork would stimulate conversations. Sometimes with the patients we look after it's difficult to start a conversation … I think what the art has done is enable people to say 'I really don't like it'. That has opened up a conversation about what is it that makes them have those emotions."
Dr Emma Whicher, medical director of south west London and St George's NHS trust, meanwhile, recognises that "creativity improves wellbeing". She explains that recovery goals, whether meaningful activity or making friends, are key for service users in managing their mental health problems. Although Whicher recognises there is no large body of evidence yet to support that, Harrison looked at the impact of multi sensory environments on emotions as part of her work for an MBA. She says: "It was quite clear that art and the environment is really important and if you have the right sensory stimulation, then it can improve how you feel."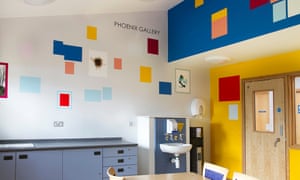 She adds: "I think a lot of us in the NHS are quite pressured and it's quite easy to become stressed and anxious and when you do that, thinking becomes more concrete and you become more irritable. You go over that optimal functioning so I think having art and beautiful things to look at to challenge your senses is really important for everyone."
It's not just the therapeutic and aesthetic advantages that have been noticed, however. The project has been instrumental in building the self esteem of a group of people so often maligned and stigmatised by society. Harrison says: "I think there's something great for the patients in terms of being chosen. This is a group that don't get much really; they are stigmatised and I think they struggle with it. The self esteem boost they get from being chosen … You see that through the staff as well. It's a real privilege."
Join the Healthcare Professionals Network to read more pieces like this. And follow us on Twitter (@GdnHealthcare) to keep up with the latest healthcare news and views.